This video describes how I use JustMacros, CasparCG and our ATEM switcher to create a really powerful HD video playback solution at our church.
Download the scripts here:  scripts
(NOTE: I've extended the functionality of these scripts.  Please see this post for the new scripts.  You can still download the ones here that work just like in the video if you'd like.)
Feel free to download these scripts and modify them for your environment.  All I ask in return is that you leave a comment here and let me know where you're using it!  Also, if you make any cool updates/additions to the scripts, let us know so we can take advantage of it as well.
Resources:
www.justmacros.tv
www.casparcg.com
www.xkeys.com
The XKEYS XK-16 that I'm using:

The Blackmagic Mini Monitor SDI Card I'm using in the CasparCG video server:

The Blackmagic ATEM 2ME Switcher:

I'm playing back H.264 encoded mp4 videos.  These are my render settings in Premiere Pro CC: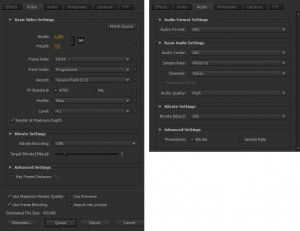 What are your thoughts?  How are you using JustMacros and your ATEM switcher?