Have you backed up your media lately?  If you haven't, let this blog post serve as a reminder that you need to go back up your data.  You should be regularly backing up your work and media.  Crashing hard drives and lost data are a fact of life, and you can save yourself a lot of time and potentially money if you spend a little time and money upfront and setup a system to  regularly backup your data.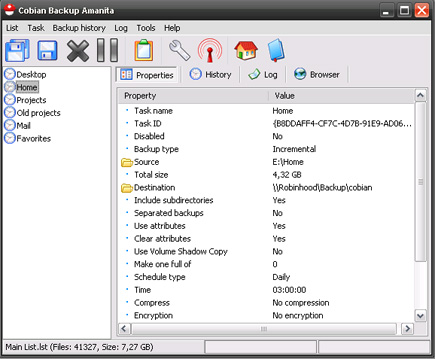 Cobian is a great free program that is easy to use and takes up little resources.  It creates backups at any interval you want (nightly, weekly, etc) of any source folder you specify to a location you specify.  I set it up to make an incremental back up of my 'My Documents' folder every night – any file that is new or modified gets backed up, and a full backup every week – the entire folder copied.  I use an external hard drive as the destination for the backup.
Yesterday I saw a 1TB western digital external hard drive on sale at Sams for $117.  That is cheap peace of mind for all of your hard work and archive of media files.